EC Securities Guide to Viewing your Portfolio Online

From http://www.ecsecurities.com.au

As part of being an equities client with EC Securities you'll be able to view your portfolio whenever you like online. The data to view your portfolio online is provided by our settlement house, E*TRADE Australia.

To access your portfolio you can access it from our website, http://www.ecsecurities.com.au at the bottom of the screen is a login form.

Guide Navigation:


Login details
Enter in your username and password into these boxes, your username will usually be a 8 digit number beginning with 6 and your password will be in your welcoming letter, alternatively if you forget or are missing any of these details you may call us (08 9227 80111). You may be required to verify yourself before any of the information given out.
Once you are logged in you will see a page similar to this: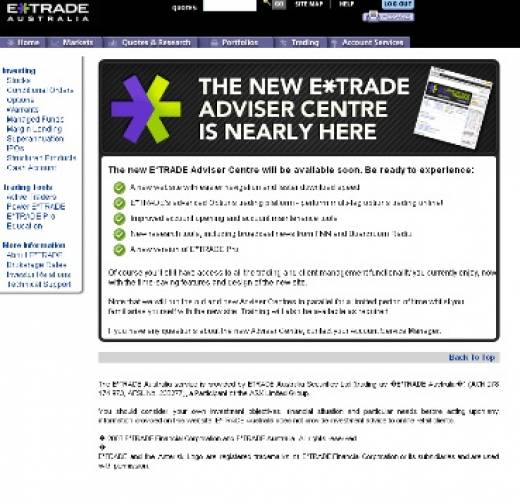 And then click "GO" next to the quote box once ready, this will being up a new page (similar to one below) showing details of Commonwealth Bank.
Home
The Home screen gives you a quick market overview showing you charts on the right hand side of certain indexes such as the, All Ordinaries, Dow Jones Industrial Average, NASDAQ Composite. Other indicators are also listed such as the most active stocks on the ASX and the movement of sectors within the ASX.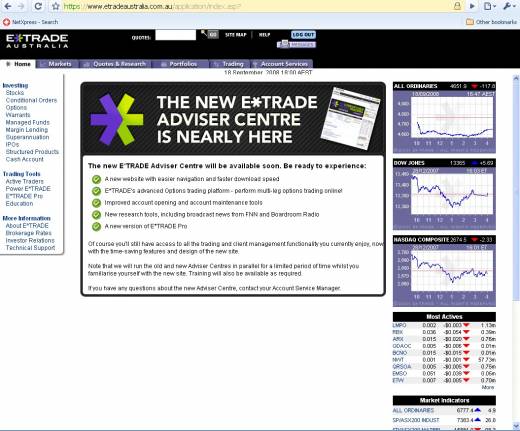 Markets
Markets gives you access to the latest news in the market. A variety of information is provided such as market reports for both the local and international markets, Company Announcements and market commentary. The sources of the news come from a variety of sources such as Eureka, Australian Associated Press and Aspect Huntley respectively.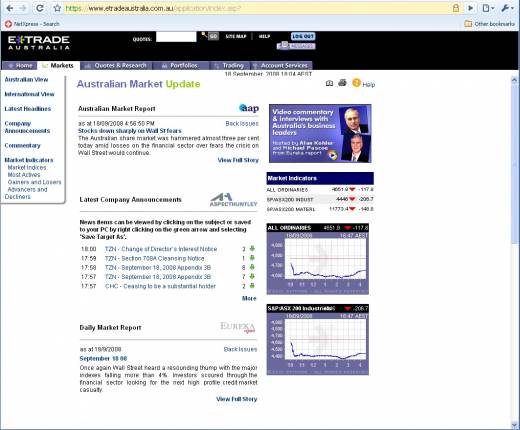 Quotes & Research
Quotes and research allows you to read news and research on the general market and individual stocks. You will be able to view a variety of sources including, Aspect Huntley, Fat Prophets, Eureka Report, Wise-Owl, The Intelligent Investor, Ecinya, Aap and Aegis Independent Equities Research.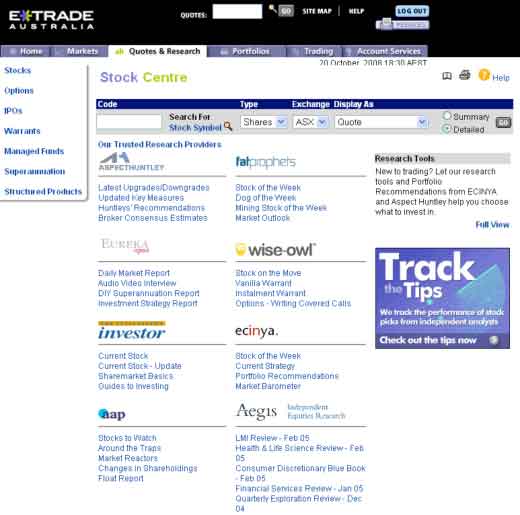 Portfolios
The portfolios screen will initially list any securities that are you are holding, you can select how much detail you want by changing the "View", which you have the option of seeing the performance, quick or trader views of your portfolio.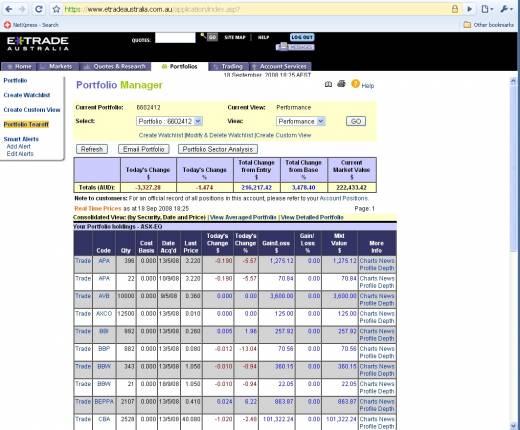 You can even create your own custom view by selecting the option on the left hand side under "Create Custom View".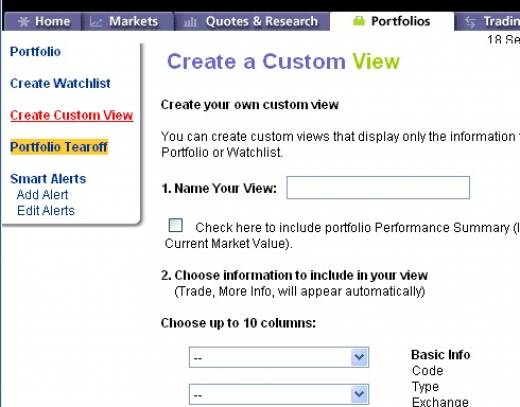 From here you can choose which columns you would like to include into your view such as the code, product type, gain/loss or today's change.
If you want to keep an eye on a certain stocks you can do this under the "Create Watchlist" link on the left hand side.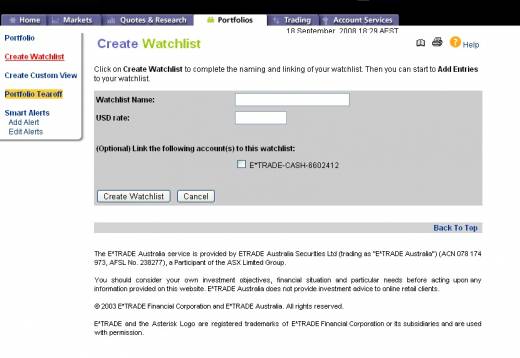 To create a watch list, click the link on the left hand side "Create Watchlist". Select a Watchlist Name. This will bring you back to the main Portfolio Manager Screen, from here select "Modify & Delete Watchlist".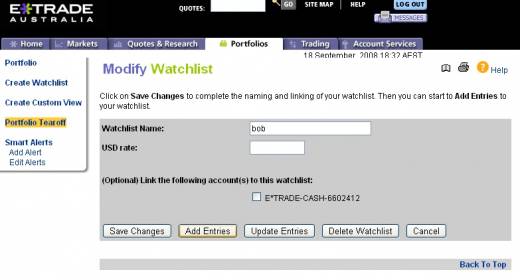 This will bring up a new screen called "Modify Watchlist"
Select Add Entries from the new screen.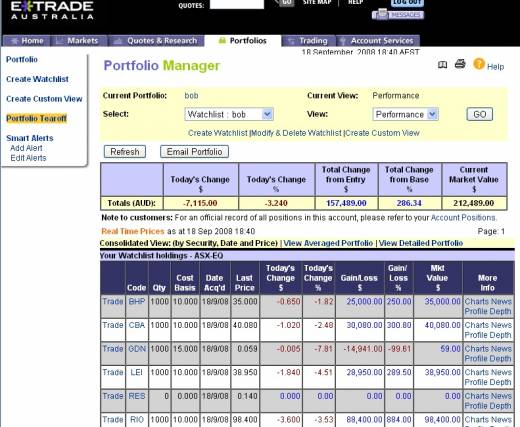 From this screen you can add the securities you wish to watch and the details of how you purchased the securities to simulate a real portfolio. You can up to 20 securities per watch list, however you do not have to have 20, you may have as many less as you like.
You can also add as much detail or as little detail or as little detail as you like apart from the code of the security and the exchange it is from. All the other details are optional.
After you have completed all the details you wish to have click "Submit" at the bottom.
This will now bring you to your newly created portfolio which should look some what similar to the picture below.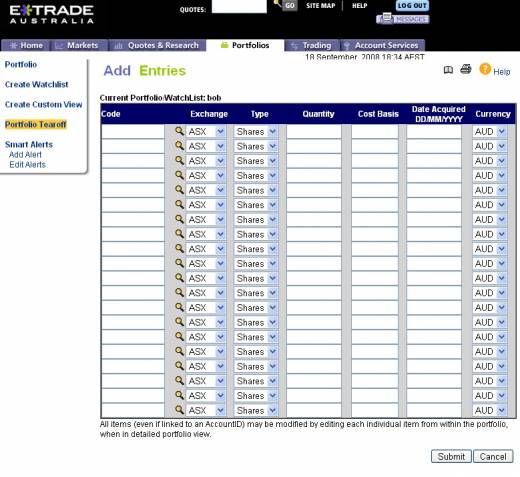 Account Services
From the account services screen it shows you a snapshot of your portfolio value and cash value assets that you have held with us.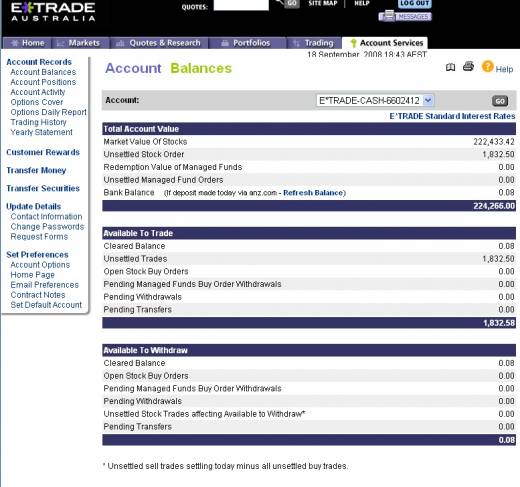 Account Balances will be your default screen for the Account Services Link.
Account Positions shows your current positions in the market, meaning it will show what you currently own in the market in terms of stock and if you trade exchange traded options it may also show your sold positions as well as bought positions.
Account Activity will show all the activity on your account including money withdrawals, deposits and interest.
If you trade exchange traded options with us you can view your cover that is lodged with the Australian Clearing House (ACH). Your options daily report which will show the fluctuations in your positions on a daily level, and will help illustrate what is happening to your ACH cover (if you are using a short strategy).
Your Trading history will allow you to view your previous trades as well as print and save contract notes from your previous trades.
The Yearly Statement will show your year to date trading summary.